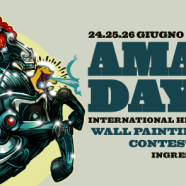 mag

28
Tags
Related Posts
Share This
AMAZING DAY 2016
AMAZING DAY 2016
- INTERNATIONAL HIP HOP CULTURE FESTIVAL
official FB page: AMAZING DAY Event since 2006
Evento TOTALMENTE GRATUITO
24 / 25 / 26 Giugno / June 2016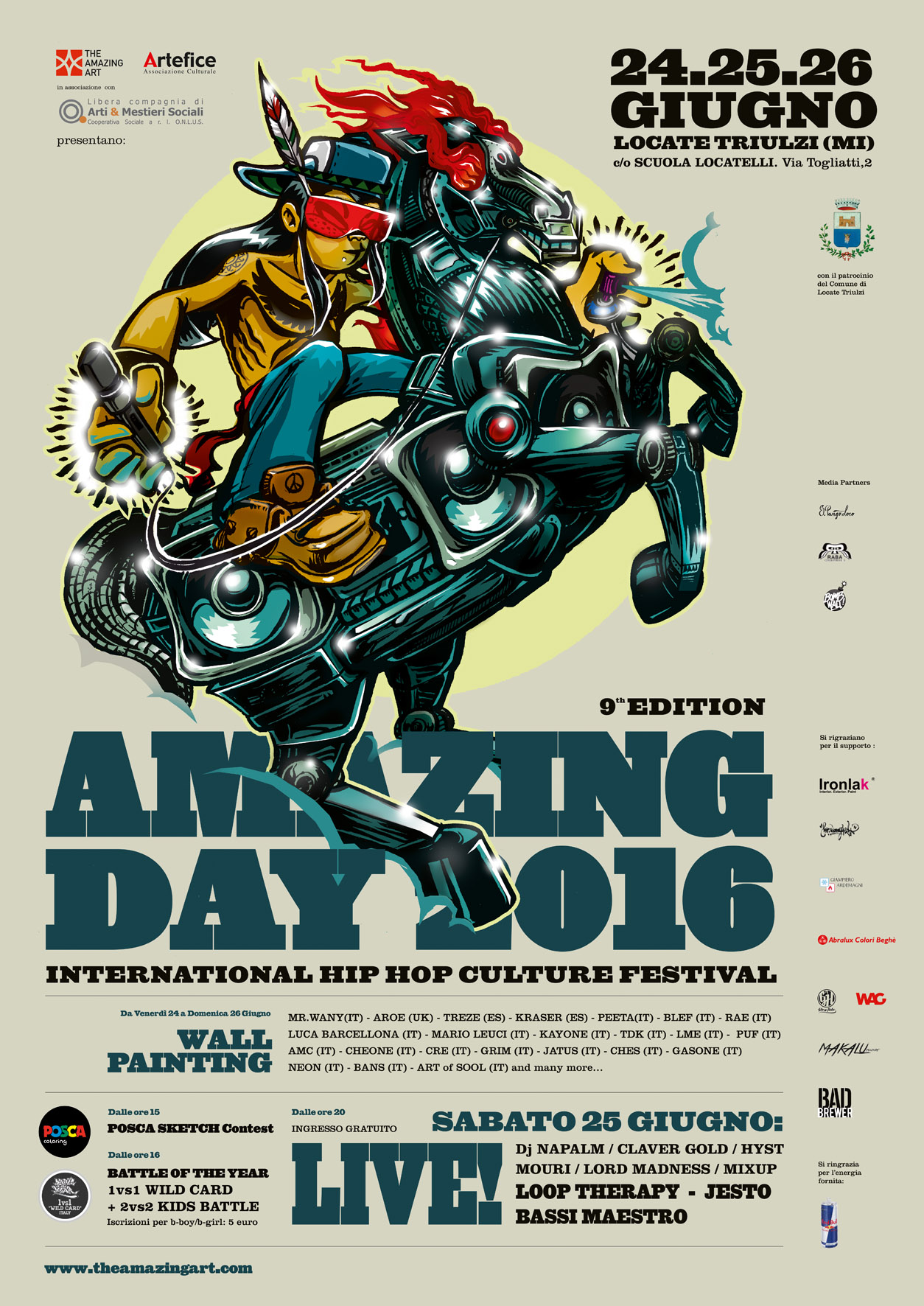 Evento FB: https://www.facebook.com/events/1186976498027865/
9th Edition -Back to the Roots
Locate di Triulzi – MILANO c/o "Scuola Locatelli", Via Togliatti 2.
(Passante Ferroviario S13 – STOP Locate di Triulzi.)
La location è a poche decine di metri dalla stazione.
/ The location is really near the train station.
_________________________________________________
STREETART, GRAFFITI WRITING, RAP, DJ SCRATCH, BBOYG, WALL PAINTING, LIVE PAINTING, EXHIBITION, CONTEST, BREAK DANCE, SHOW CASE, CONCERT, PERFORMANCE, WORKSHOP, CULTURE.
Thank you to COMUNE DI LOCATE and all supporters, PARTNERS and SPONSORS:
POSCA, IRONLAK, REDBULL, ABRALUX, THEAMAZINGART.COM
more info soon…
___________________________________________________
more info:
project@theamazingart.com
******* WALLS PAINTING *******:
MR.WANY(IT), AROE (UK), SOBEKICS (RS), TREZE (ES), KRASER (ES), MOSONE (IT), VERBO (IT), PEETA(IT), BLEF (IT), RAE (IT), LUCA BARCELLONA (IT), TAWA(IT), MARIO LEUCI (IT), KAYONE (IT), TDK (IT), LME (IT), ORGH (IT), NINA (IT), GIOWE (IT), EIGHT (IT), LOID (IT), KORVO(IT), BLOB(IT), SMAKE(IT), AMC (IT), RIFLE (IT); SECSE (IT), IKE (IT), CHEONE (IT), CRE (IT), GRIM (IT), JATUS (IT), CHES (IT), GASONE (IT), NEON (IT), BANS (IT), NAIS(IT), ART of SOOL (IT), KABO(IT) and many more…
___________________________________________________
******* AMAZING DAY meet BATTLE OF THE YEAR *******:
1 VS 1 WILD CARD B.O.T.Y. + 2 VS 2 KIDZ BATTLE
QUANDO?: SABATO 25 GIUGNO
Contenuti :
-1 VS 1 BOTY wildcard
il vincitore entrerà di diritto nei Top 8 di Boty Italy sabato 17settembre (teatro golden – roma)
+ viaggio pagato!
info: https://www.facebook.com/battleoftheyear.roma.it/?fref=ts
-2 VS 2 Kidz (Under 14 – DAI 14 ANNI IN GIù)
Premio: targa AMAZING DAY.
Host: PHILGOOD ( BANDITS )
Judges:
1: KACYO ( DE KLAN )
2: FROZ ( BANDITS )
3: SNAP ( LAST ALIVE )
Dj: TWICE ( NATURAL FORCE )
Programma:
-Open door : 14:00
-Chiusura iscrizoni 2vs2 kidz battle : tba
-Start 2vs2 kidz battle : tba
-Chiusura iscrizioni 1vs1 B.O.T.Y. : tba
-Start 1vs1 B.O.T.Y. : tba
entrata: free
Iscrizioni:5€ per bboy/bgirl
N.B. : NON SARANNO PRESE ISCRIZIONI ONLINE IN QUANTO LE ISCRIZIONI SARANNO DA EFFETTUARE IN LOCO NEI TEMPI INDICATI.
powered by mr wany & like a bomb!
-SABATO 25 SHOWCASE by :
Dj NAPALM
MIX UP
CLAVER GOLD
MOURI
LORD MADNESS
HYST
-CONCERT:
JESTO
LOOP THERAPY
BASSI MAESTRO
https://www.youtube.com/watch?v=9HhR2_0-W_s
Ore: tba
more info coming soon…………..